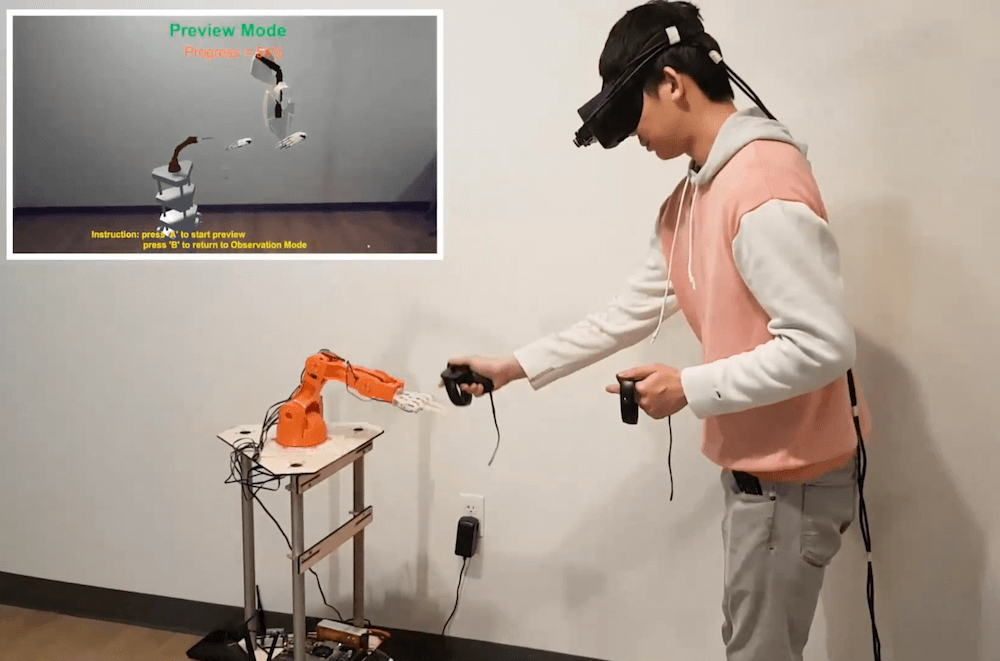 As robotics advance, the future could certainly involve humans and automated elements working together as a team. The question then becomes, how do you design such an interaction? A team of researchers from Purdue University attempt to provide a solution with their GhostAR system.
The setup records human movements for playback later in augmented reality, while a robotic partner is programmed to work around this "ghost." This enables a user to then plan out how to collaborate with the robot and work out kinks before actually performing a task.
GhostAR's hardware includes an Oculus Rift headset and IR LED tracking, along with actual robots used in development. Simulation hardware consists of a six-axis Tinkerkit Braccio robot, as well as an Arduino-controlled omni-wheel base that can mount either a robot an arm or a camera as needed.
More information on the project can be found in the team's research paper here.
We present GhostAR, a time-space editor for authoring and acting Human-Robot-Collaborative (HRC) tasks in-situ. Our system adopts an embodied authoring approach in Augmented Reality (AR), for spatially editing the actions and programming the robots through demonstrative role-playing. We propose a novel HRC workflow that externalizes user's authoring as demonstrative and editable AR ghost, allowing for spatially situated visual referencing, realistic animated simulation, and collaborative action guidance. We develop a dynamic time warping (DTW) based collaboration model which takes the real-time captured motion as inputs, maps it to the previously authored human actions, and outputs the corresponding robot actions to achieve adaptive collaboration. We emphasize an in-situ authoring and rapid iterations of joint plans without an offline training process. Further, we demonstrate and evaluate the effectiveness of our workflow through HRC use cases and a three-session user study.